Clay Paver Pet Memorial Plaque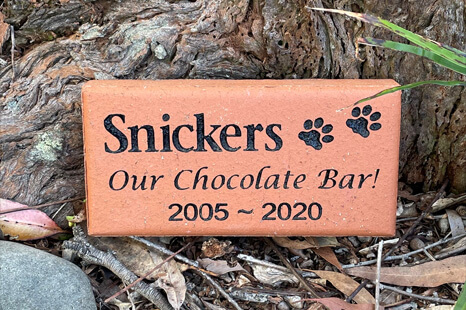 Clay Paver Pet Memorial Plaque
Font/Text styles are available in the following styles:
An engraved clay paver makes a practical and durable outdoor memorial marker. They are Australian made and the colour is "Kimberly Sunset" which is very similar to terracotta.
The inscription is engraved into the surface and finished with exterior grade black paint.
You can have the same graphics as more expensive materials. An engraved clay paver looks terrific in a garden or lawn setting.
Clay Paver Memorial Plaque Price $100
* All prices include delivery Australia wide
Options Include:
Premium Express + $70
Set of plaque stands (Highly Recommended) + $45
All weather ceramic colour photo + $135
Reviews
Review Submitted
Thank you for writing a review. It will be displayed on our website after we review it.
Your Service was OUTSTANDING!

I had to come back to yoru website and write a review on how great your service was when we bought a plaque for Cat Jinx. you were so caring and got back to us really quickley making the process easy for us. And the plaque ytou did is exquisite, we coudl not have asked for anthing better. Please thank your wonderful team for us. The Kelly Family.

Much better than photos show

We recently purchased an engraved paver for our "Lucy" we wanted something for the kids to put out in the garden to remember her by. We were blown away at the quality. The engrvaing was really deep and very sharp. Putting the plaque in the garden has help the kids come to terms with Lucy not being around any more. Thank you!